GIZMODO recently asked How Much Steel Does It Take To Build a Floating Neighborhood?. It explores how skyscrapers are being built over an existing infrastructure - a running railyard. Read on to learn more:
Without much fanfare—and as quietly as a construction project can be—a new neighborhood is taking shape on the west edge of Manhattan. It's the largest private real estate project the US has ever seen. But neither its size or cost are what make it interesting.
We're living in an age of gargantuan developments aimed at the super-wealthy. Hudson Yards, as this thicket of skyscrapers is called, is just the latest. But Hudson Yards isn't being built on solid ground. It's being built over an active railyard, where 30 tracks provide access for trains throughout the day. It's a 28-acre open pit on the edge of the city, and the project's engineers have to create a gigantic artificial foundation above it to float four skyscrapers and numerous other towers and buildings, including a school, hotel, and a mall.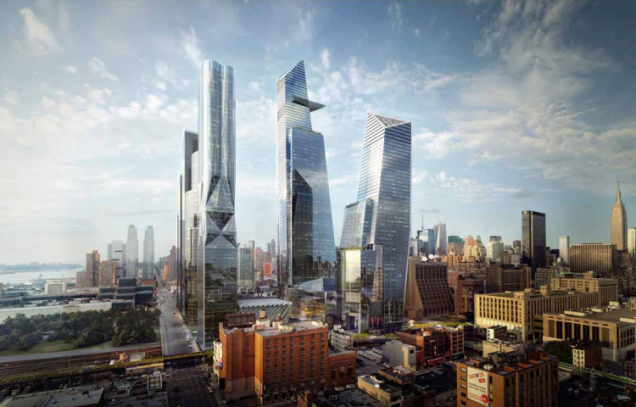 Last summer, we got a look at how 300 caissons were being driven into the bedrock around the railyard in preparation for the construction of the huge steel "foundation" that will hold up the neighborhood.
Now, the steel that will be used to hold up that weight is arriving on site, and according to the project teams' latest update, it's one of the largest deliveries in the history of the US: 100,000 tons of steel, or roughly 50,000 SUVs, will be trucked onto the site over the next year as crews set up a series of heavy trusses that will transfer the loads of the buildings down to the caissons. Placing all of it, the developer says, will take 1.2 million man hours—the first of which are being spent putting huge trusses and columns in place on site this month:
See the entire article here.